Lead Quantification
CMS Approval and Compliance: Navigating Medicare Advantage Open Enrollment 2022
Buying or selling Medicare Advantage Leads During 2022's Open Enrollment? If so, CMS Compliance Certification should be top of mind.
---
PX has made CMS Compliance Certification our highest priority, and we want to help all our sources and Medicare Advantage Plan advertisers to do the same with ease and confidence.
CMS Compliance Regulations look a little different this time around. Here are some of the main points you need to know to survive and thrive in 2022 and beyond:
Certification:

Get Certified ASAP!





This year, sources not only have to be CMS compliant, but they also must be certified through the

CMS website

and receive a SMID/DIN number.





The SMID/DIN number MUST be displayed at the bottom of the generating site's homepage.





The application process is long. CMS is unable to guarantee certification of compliance to sites that submitted their applications in after June 1, 2022.




Adherence to Compliance:

Compliance must be absolute. There is no asking for forgiveness here.





CMS is going to take legal action against the lead source

and

the insurance company responsible for the sale of any Medicare Advantage Plan that is generated from a lead source that is not a CMS Certified Source.





The following disclaimer should be available near the TCPA language on all lead generating sites:

"We do not offer every plan available in your area. Any information we provide is limited to those plans we do offer in your area. Please contact Medicare.gov or 1-800-MEDICARE to get information on all of your options."




Insurance companies are going to rely heavily on the discretion of their legal teams. Any association with a non-complaint sale will most likely result in the dissolution of their partnership.

The PX Approach
Be Prepared:

Sources for Medicare Advantage Open Enrollment Must Be Vetted.


All sites must pass through PX Compliance before September 1, 2022 to be available for Medicare Advantage campaigns.





All sites must provide sample creatives before September 1, 2022 to be available for Medicare Advantage campaigns.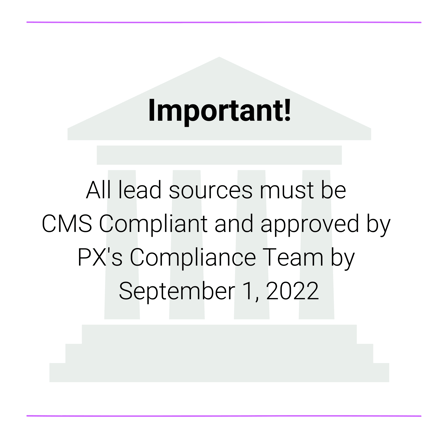 All call publishers must provide up-to-date scripts before September 1, 2022, to be available for Medicare Advantage campaigns. All publishers and buyers must complete PX's best practices checklist before September 1, 2022 to be opened to Medicare Advantage campaigns.



Put Safety Measures in Place:

Using the PX Platform and Team!


Prior to open enrollment all PX site details will include a field for SMID/DIN certification numbers.





Buyers will be able to filter and block leads on the CMS SMID/DIN field.





Buyers will be able to request creatives and scripts per source upon request prior to Open Enrollment Launch by contacting

compliance@px.com

.





Prior to launch, PX will send out both buyer and publisher checklists to all who have campaigns set up to ensure everyone is ready to go.
CMS's added checks and balances for Open Enrollment 2022 may seem cumbersome, but preparation and continued vigilance will ensure success. PX is committed to making that dream of success a reality for both sources and Medicare Advantage providers.
Let PX help you navigate your way to compliant success during 2022's Open Enrollment.
---
Ready to take the lead?